Senior Awards Night Click Here!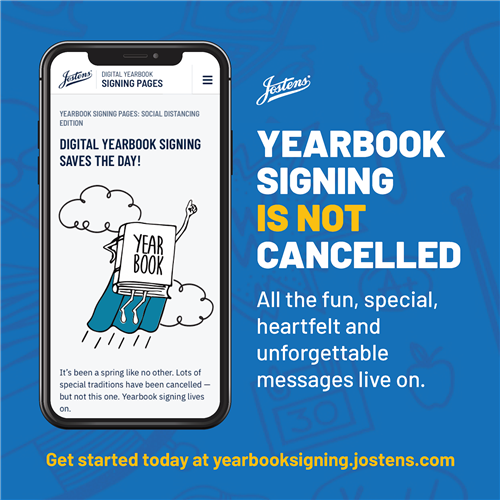 We are excited to announce that the Cashmere High School yearbook signing tradition is alive and it's fully digital to suit our socially distanced students!
Jostens has just launched a new platform, Yearbook Digital Signing Pages, that gives every student in our school the chance to create virtual signing pages, invite their friends to leave messages, and print out the final pages to keep with the yearbook as a permanent keepsake. This is free for every student whether they purchased a yearbook or not.
Get started with your yearbook signing with the link below:
---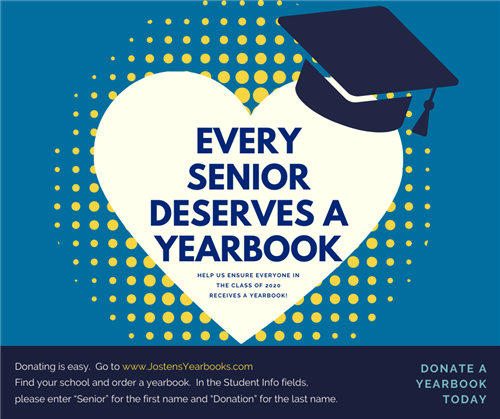 If you would like to donate a yearbook to a CHS Senior, go to:
** Find your school and in the student information field, please enter "Senior" for the first name and "Donation" for the last name.**
---
Senior Awards Night Coming May 27th, 7:00 P.M.
VIDEO GRADUATION IS BACK ON!
May 20, 2020
Dear Senior Class Members and Parents:
We received good news today. The Health District called and said we could have our seniors come in and be filmed for the senior procession and receiving their diplomas. We will do that on Wednesday, May 27, 2020 according to the schedule below.
Charley Voorhies, a local video production company owner will film all of our seniors and create a video of graduation. The video will include the walk-in procession, reading of the graduate's name and presentation of diploma, speeches by, class president, valedictorian, and class chosen speaker-Don Smith. It will conclude with the presentation of the class. It will be a nice keepsake and memory for you and your family in this most irregular school year.
Please show up in game day dress with your cap and gown at the assigned time below in front of the high school. If you cannot be there at the assigned time, please call the school and let us know and we can schedule another time. It is very important that we get everyone there to make this work.
A-D 8:30
E-H 8:45
I-L 9:00
M-P 9:15
Q-T 9:30
U-Z 9:45
Make-ups 10:00
Please get the word out to all your 2020 classmates. Contact me if you have any questions. Seniors, continue to engage in your classes and learning so you can graduate. Remember the only way you can go backward in your grades from when school got out is to do nothing at all.
Tony Boyle, Principal
Senior Schedule of upcoming events:
May 27, 2020 Video made of seniors walking and receiving diplomas 8:30 am to 10:30 am
May 27, 2020 Senior Awards Night – 7:00 pm
June 3, 2020 Senior Parade – 6:00 pm (Starts at Riverside Park ends at High School – gift baskets for all seniors at the end)
Parade Guidelines: No motorcycles, bicycles or skateboards. 4 wheelers are allowed to be driven in the parade-must be picked up at the high school parking lot.
**All vehicles must stay in line behind the Sheriff and Fire Department vehicles.
---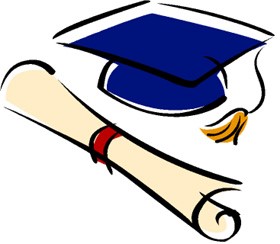 Save The Date
A Virtual Senior Awards Program will be held on Wednesday, May 27th.
Watch the website for more details.
If you have earned any scholarships, please contact Ms. Fall at mfall@cashmere.wednet.edu
---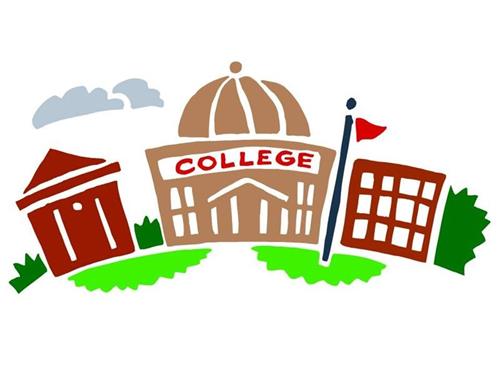 May 28, 2020 at 2 pm
Junior (virtual) College Fair with recruiters
More details to come!
---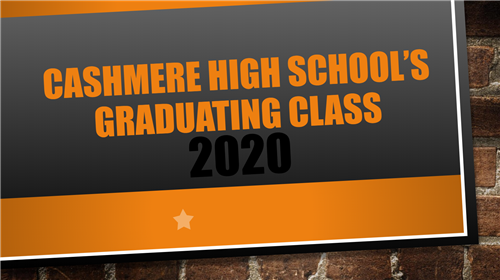 Class of 2020 Senior Slideshow
---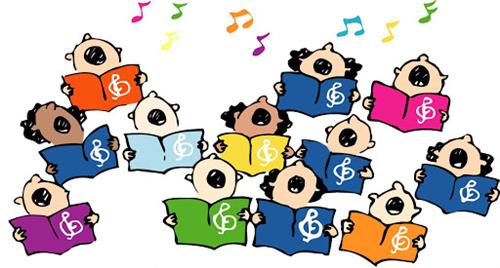 Attention CHS Singers!
Love to sing in the shower? Want to sing with others and grow your skills?
Sign up for choir now!
The CHS Choral Department is full of wonderful ensembles, performance opportunities, and great community!
There are three choirs offered at CHS:
Girls Ensemble - Non-audition and women only
Concert Choir - Simple Audition (virtual this year), men and women mixed
Vocal Jazz - Ya like Jazz? This is an advanced, competitive choir of men and women. Audition (virtual) necessary and participation in a Concert ensemble (Band/Choir) is a prerequisite.
Not sure which choir is the best "fit" for you? Ask Miss Bronson at cbronson@cashmere.wednet.edu!
Happy singing!
---
Principal's Video Message - 4/29/20
Dear Parents and Students:
Last week the Office of the Superintendent of Public Instruction came out with the guidelines and rules for grading during the school closure period for High Schools. I am writing this letter to share Cashmere High School's policy during this time.
Cashmere High School Grading Guidelines 2020
The following is taken directly from OSPI and is considered policy for second semester 2020:
Students taking credit-bearing high school level work will be graded using the following principles:
Do no harm!
Every student will get an opportunity to improve their grade with their March 17 status as a baseline.
No student will receive a "pass," "fail," or "no credit" grade for any course.
Teachers will assign grades—A through D--or assign an "I - incomplete" for students that cannot engage in an equitable way or choose not to engage in remote learning.
Every class taken during the closure period will be given a statewide designator on the high school transcript to denote the unique environment in which the course was taken.
Students assigned an "incomplete" for a course will be given opportunities to re-engage in the learning standards based on Cashmere School District decisions in consultation with the student/parents/guardians, including but not limited to:

Summer school,
Courses in the following term or year,
Competency-based courses,
Online courses, or
Backfilling the incomplete grade with the letter grade obtained in the next course taken in that subject area.
Students may be called back to school early to make up course work in the fall.
All students will be given an opportunity to engage in continuous learning to maintain or improve their mastery of essential standards.
"This statewide framework will create more consistency across the state, but districts will still decide which letter grade system to use. However, "F's" will not be an option. This is a very complex problem, and I am incredibly grateful to the parents, students, and educators across the state who offered their ideas and input." Chris Reykdal, Superintendent of Public Instruction for the State of Washington
Do No Harm" clause definition:
Students are not penalized for missing assignments if they do not have proper technology, including Wi Fi.
A student who is sick and is unable to participate will not be penalized for missing assignments.
Other individual circumstances may be considered.
A student will receive at minimum the grade they would have received when school closure occurred. Students may improve their grades based on what they turn in and complete remotely.
However, this portion of the policy does not automatically mean you will advance to the next course in the progression. It is important that you engage in your classes with your teachers for many reasons:
The necessary skills to move on to the next level of your subject. (ex. English 9 to English 10 or Spanish I to Spanish II)
For Juniors and Seniors - Acquiring the necessary credits and skills for graduation and post high school, college, trade school, the military or the work force.
Ensure you get college credit from your College in the High School courses.
Improving your grade
Students, especially seniors I urge you to check you school email or contact you teachers by phone, text or email and please be engaged in your learning for the remainder of this Remote Learning period. If you have any questions about the new grading policy, please feel free to contact me anytime.
I miss seeing the students and parents at school and activities. I am anxiously awaiting the time when we can get back to our normal school activities.
Sincerely,
Tony Boyle, Principal
---
Dear Cashmere School District Families,
During this unprecedented time, we want to thank you for the grace and patience you have shown us as we transition from learning in classrooms to learning in a new virtual environment. The push to take our academic programs online has required a great deal of learning by our faculty and staff (and we imagine your family as well), and while we have learned much over the past six weeks, we know we have more to learn and areas we can improve upon. Further, we recognize we are in this together and collaboration with our families is critical to the continued success of our distance learning program.
With this in mind, in an effort to take stock of our efforts thus far and gain feedback from our families, we are requesting you complete a distance learning survey at the link provided. In addition, if you have multiple students in our schools, we are also requesting you complete the survey for each individual student so that we can get specific information for differing grade levels. Your input is invaluable to us as we strive to improve our distance learning model and we thank you in advance for completing the survey. As always, please don't hesitate to reach out to your teachers, principals, or the district office with questions, concerns, or comments.
Thanks again,
Scott Brown
Cashmere High School
Assistant Principal
---
Buy your CHS 2020 yearbook today! Click HERE
---
Special Education Covid-19 Closure Impacts
Please click HERE to view information from the Cashmere School District's Federal Programs Director, Lisa Avila, on how the Covid-19 closure is impacting our Special Education Services.
---

Driver's Ed
Sign up sheet is on Officer Mutch's window
---

Attention: Seniors & Juniors - Sign up in the Career/Counseling Office for Future Fridays!
---
CHS HOODIES NOW
AVAILABLE!!!!

SUPPLIES ARE LIMITED

!!
COMES IN BLACK AND GRAY!!
Designed by: Cashmere DECA
Get yours at Mr.G's RIGHT NOW

!!
GoOoOo DAWGS!!
---

Order your yearbook online at jostensyearbooks.com

or in the CHS office with Mrs. Landes!
---
Click HERE for the 2020 Seniors' Schedule
---
---
Chelan County Sheriffs Reward Good Behavior at Cashmere High School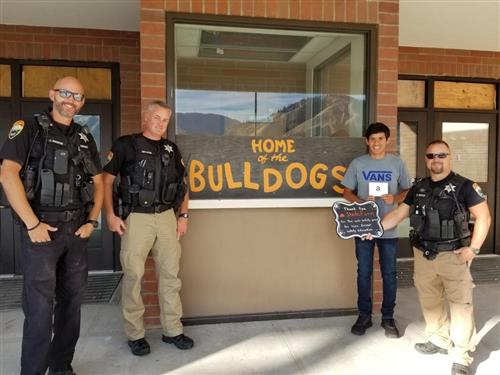 This morning with the help of Washington Traffic Safety and a grant from State Farm, we were able to give GOOD TICKETS away to students who were driving safely wearing seat belts and not using cell phones. Student passengers were also given GOOD TICKETS. Students put their name on the ticket and placed it into a basket near the front door of the school. At about 8:05, we drew a random name and Hector Hernandez won a $139 gift card from Amazon. ($139 is the cost of a normal ticket.) See Deputy Mutch, our School Resource Officer, for more details.